Dogwoods Are In Bloom!
We continue to see beautiful days with lots of sunshine and temperatures in the upper 70s to low 80s.  Unfortunately, we are seeing pretty good chances for rain this coming Thursday.  Cross your fingers.  We don't need any more rain.  Friday will be nice and then it will turn a little cooler for Saturday and Sunday….mid 50s.  Next week is looking nice.
This is our second day where the scheduled generation has been 35 mwh.  They are not quite sticking to this flow rate in a consistent manner.  It might be 31 mwh, then 58, then 42, etc.  Just enough to keep the fish wondering.
Jim on the water with Marvin from Indiana yesterday.  Good day for him on the copper dun midge.
Today Jim had Jerry out for half a day.  Another good day on the copper dun and ruby midges.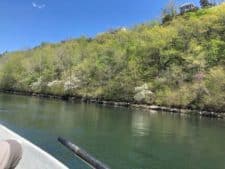 As I said, the dogwoods are blooming all along the bank here on Taneycomo.  Beautiful!